We are a cell-based family Church, loving Jesus by serving and discipling people, transforming community and changing nations one life at a time.
God cares. We care. People matter.
Bible Based
"All Scripture is God-breathed and is useful for teaching, rebuking, correcting and training in righteousness"
(2 Timothy 3: 16 NIV).
Discipleship
"Then Jesus came to them and said, 'All authority in heaven and on earth has been given to Me. Therefore go and make disciples of all nations, baptizing them in the name of the Father, and of the Son, and of the Holy Spirit".
(Matthew 28:18-19 NIV).
Loving family
"God sets the lonely in families, He leads out the prisoners with singing; but the rebellious live in a sun-scorched land".
(Psalms 68: 6 NIV).
Spiritual Disciplines
"For those who are led by the Spirit of God are the children of God".
(Romans 8:14 NIV).
Multi-national
"There is neither Jew nor Gentile, neither slave nor free, nor is there male and female, for you are all one in Christ Jesus".
(Galatians 3:28 NIV).
Missional
"But you will receive power when the Holy Spirit comes on you; and you will be my witnesses in Jerusalem, and in all Judea and Samaria, and to the ends of the earth".
(Acts 1:8 NIV).
Generational
"And afterward, I will pour out my Spirit on all people. Your sons and daughters will prophesy, your old men will dream dreams, your young men will see visions. Even on my servants, both men and women, I will pour out my Spirit in those days".
(Joel 2:28-29 NIV).
Generous
But since you excel in everything—in faith, in speech, in knowledge, in complete earnestness and in the love we have kindled in you[a]—see that you also excel in this grace of giving.
2 Corinthians 8:7 (NIV)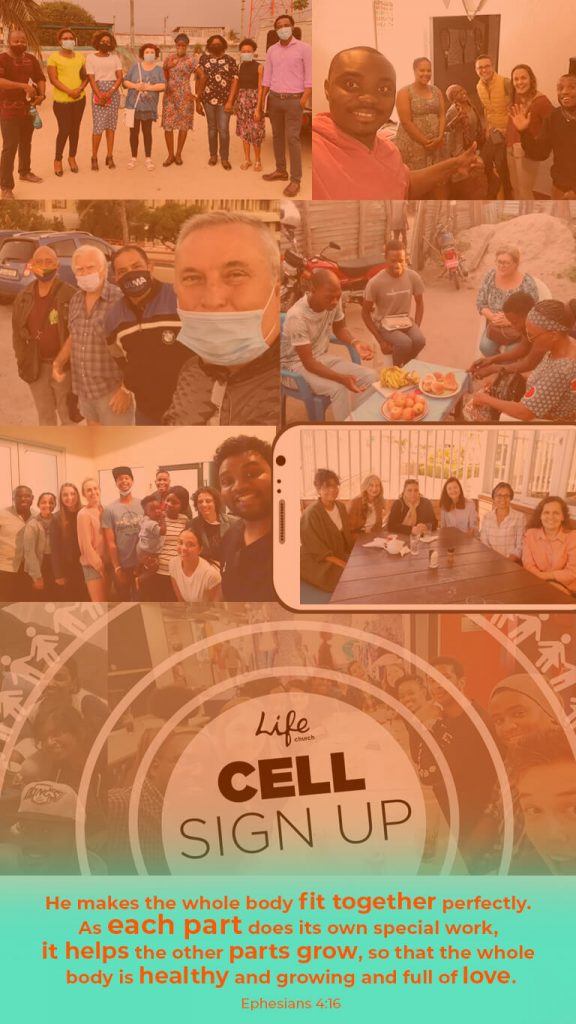 Celebrations & Cell Groups
A cell group is a small group of people, meeting weekly  in homes in the surrounding community, who are committed to building each other up and reaching out to others around them.
The purpose of the cell is to provide an environment where believers are connecting with God and each other while growing and doing the work of ministry. The early church did this, Jesus did this and we are to do the same.
Acts 2:42-47 : The Fellowship of the Believers 42 They devoted themselves to the apostles' teaching and to fellowship, to the breaking of bread and to prayer. 43 Everyone was filled with awe at the many wonders and signs performed by the apostles. 44 All the believers were together and had everything in common. 45 They sold property and possessions to give to anyone who had need. 46 Every day they continued to meet together in the temple courts. They broke bread in their homes and ate together with glad and sincere hearts, 47 praising God and enjoying the favor of all the people. And the Lord added to their number daily those who were being saved.
So we gather in together weekly in homes and gather together as a bigger group in celebration, just as they did in the book of acts. It's important that we do this regularly and continue to invite people to join.
We are following all recommended safety precautions for our gatherings during this global pandemic